I am a multidisciplinary artist with a focus on technical work, surface alteration and joyfull facsimile.
Through the incorporation of unconventional and often over looked materials or processes,
I am afforded the ability to subtly explore a variety of issues and concepts.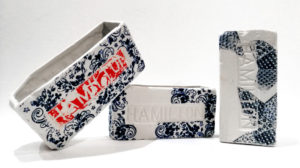 Each work I produce is intended to be viewed through a sculptural viewpoint.
Out of place materials and meticulous processes fuse together
creating works that stand apart yet maintain a aesthetic or conceptual cohesion
while simultaneously allowing the viewer the ability to question.